About Jess
Jess Birmingham treats adults and children with Japanese style acupuncture in mid-Cornwall. She continues to take advanced classes in Japanese style acupuncture, most particularly, intensive courses in Tokyo and Shikoku and with Koshiishi sensei (below right) also in Tokyo. Jess began studying with Koshiishi sensei in 2015 and now uses this style of moxibustion, shiunko-kyo, extensively and effectively in her clinic. In 2016, she was invited to observe at Koshiishi sensei's Clinic in Tokyo, and returned in 2017.
Jess' initial acupuncture training (Lic.Ac) began in 1994 at the CICM, Reading, treating people from 1996 and fully qualifying in 1997. In 2008 she completed a further two year Certificate in Acupuncture for Children (Cert.Ac.(paed.) with Julian Scott et al, and went on to study Shonishin (needle free paediatric treatment) with Stephen Birch, and Japanese Kiiko Style Acupuncture with Kiiko Matsumoto from 2009.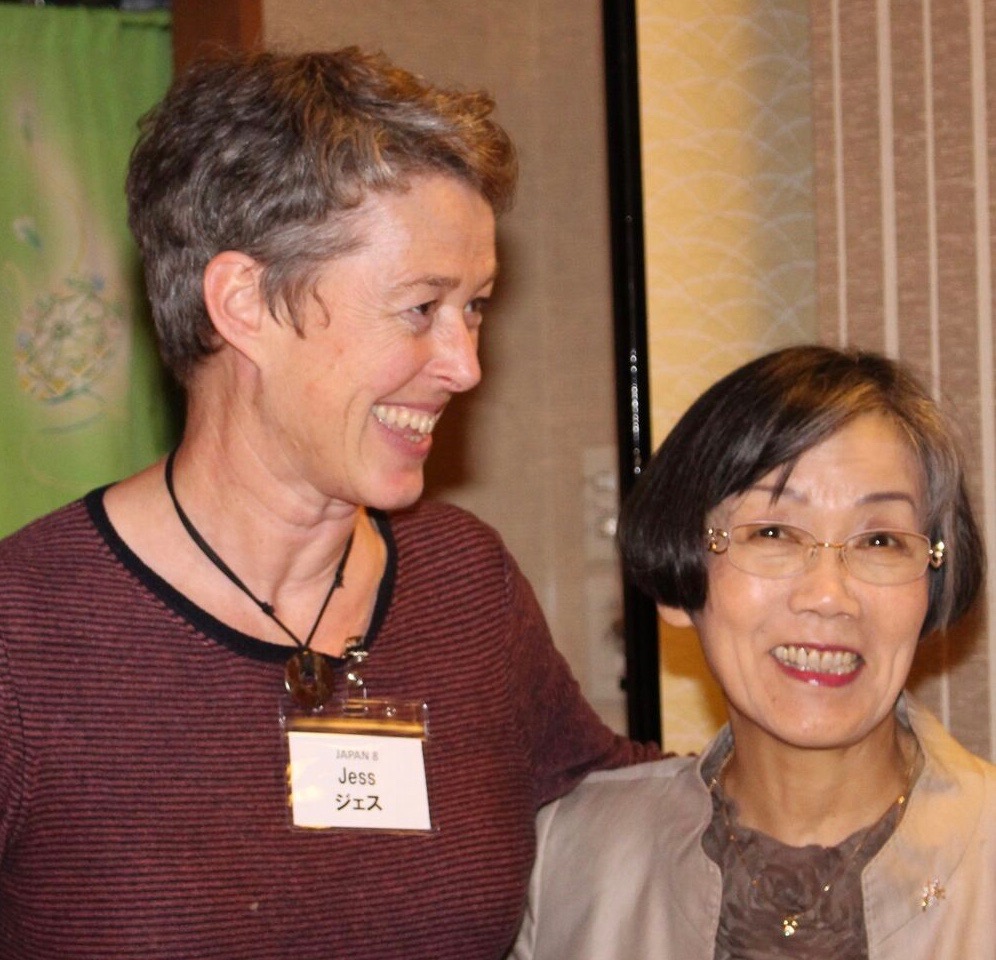 Jess is a Member of the British Acupuncture Council (BAcC) and rigorously observes their Codes of Safe Practice and Professional Conduct. The Code of Safe Practice lays down stringent levels of hygiene and requires the use of sterile disposable needles. This code has been recognised by the government as providing robust self-regulation which meets the needs of the general public.
She has worked at several complementary health clinics in Bristol, both private and as part of an NHS GP practice, including one of the UK's first multibed clinics, before coming back to work in Cornwall again. Jess now works in Trebyan, Lanhydrock and lives locally.
Want to know more - click here
Jess followed an indirect path to acupuncture, having originally qualified and worked across the south west as a professional theatre designer, painter and prop maker. A period of ill health ended with her returning to her roots to champion and teach traditional woodland management for the conservation charity BTCV, still in the south west and including many community woodland projects in Cornwall. Eventually her long term interest in health and the discovery that breach babies can be turned using moxibustion (not even any needles!) led her to train as an acupuncturist in 1994. Turning breach babies remains one of Jess' favourite treatments to do.

Information is available from the BAcC at 63 Jeddo Rd, London, W12 9HQ 020 8735 0400 www.acupuncture.org.uk Jess is also registered with Cornwall Council to practice acupuncture.